I

t's been a roller coaster ride .....
- Christine Machado (

goasheartbeat@herald-goa.com

)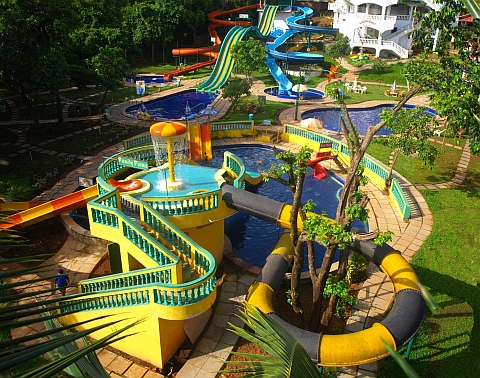 The following article appeared in yesterday's (17/12/2012) Herald Heartbeat section:
Almost everyone loves splashing around in water, and 'Splashdown Water Park' in Anjuna, created by marine engineers Melroy Pinto and Levancio D'Souza, has given Goans of every age the opportunity to have some fun in the water.

A year after it was inaugurated, this water park is a favourite hangout spot with both, Goans and foreigners.
"The response has been unexpectedly good," admits Pinto. "People give many suggestions – we get negative comments, too, and we take them seriously. If the suggestions made are good, we try to rectify them as soon as possible."
'Splashdown' has played host to many school and club picnics, orphanages, and family reunions.
"We have tied up with hotels who want their guests to visit. It has also been used as a location for shooting movies, the latest one being 'Baga Beach", revealed Pinto, adding that many people from the south come in groups but those from the north come as nuclear families.
People of different nationalities such as the British, Russians, Afghans and even Iranians and Saudis frequent the park. "The Afghans have their own music, which they request me to play and dance their traditional dances. So do the Iranians. It's very interesting to watch", elaborated Pinto who states that Splashdown is a "happy place with no misbehaviour of any sorts owing to its no alcohol policy."
"One of the foreigners described what he called the magic hour of the place, which begins from 3:00 pm," informed Pinto and further elaborating that, in the morning everyone is excited to play on the slides but at around 3:00 pm, people settle down and start making friends. "Someone's wife joined in the Rain dance with some Indian women. There was some Bollywood song playing and the Indians knew the steps to it" discloses Pinto.
Every business flourishes with time and Splashdown is no different. Many improvements have been made over time. "We have tried to make our park 100 percent safe. We have done up the lawns, added new swings and on the whole made it more child friendly," said Pinto. "Sometimes people lose their valuables, especially gold and purses and leave their numbers with us. If we find it we make it a point to courier it back to them wherever in the world they are."
However, some problems still persist. "One of the major problems we have had is when grass is cut; it gets carried to the pool with the wind or with people walking. We have built more pathways to avoid this from happening but I don't want it to be all paved all over. We need the greenery, too," said Pinto.
When 'Splashdown' first began, equipment was manufactured outside Goa and while the required material can now be obtained in Goa, 'Splashdown' prefers to remain faithful to the ones who were there for them in the beginning. "Even though we didn't have much money then and little know-how, they did not take advantage of us. In fact, the man came down especially to Goa to aid us," added Melroy.
As 'Splashdown' completes a year, Melroy has a lot of ideas and additions that he wants to make there. "We opened two restaurants on December 14. One will be open for the public and one for the water park. Also an exciting ride 'Pendulum' is on the card. The foundation is already in place", said Pinto. "We also want to develop the rear part for wedding receptions for holding weddings."
'Splashdown Water Park' is the first major project in Gaumvaddi, Anjuna.
The plot originally belonged to Ven Fr Agnelo's family, which was sold to Melroy Pinto and Levancio D'Souza. Many of the projects in Goa are owned by outsiders, but this one is solely owned by two Goans. We are proud of Melroy and Levancio.
Another good thing about the Water Park is that right from the beginning Melroy has insisted that his staff should be Goans. As such, majority of his staff, barring a few labourers, are Goans. Melroy means what he preaches!